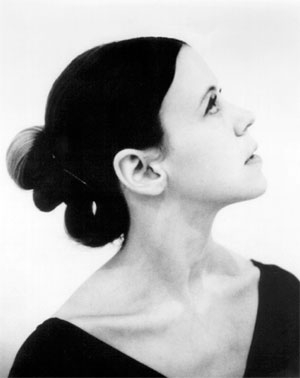 Mary Price Boday, a citizen of the Cherokee Nation, is a Master Teacher, Choreographer, and Dance Specialist who holds two BFA degrees in dance, and a MFA in dance. In New York City she danced professionally with the Leonard Fowler Ballet, Mary Anthony Dance Theatre, Pearl Lang Dance Company, Larry Richardson Dance Company, and the Gaku Dance Company (Dick Gain, Dick Kuch, and Sophie Maslow). Additionally, in New York, she taught and choreographed for the Harkness Ballet Company Number Two, where she worked with David Howard and Maria Vegh. From New York, she moved to Switzerland to dance with the St Gallen Stadt Theatre Ballet and the Zurich Ballet. Mary's teaching credentials include Harkness Ballet, ballet mistress in St Gallen Stadt Theatre Ballet, the Zurich Ballet, the University of Illinois, Associate Professor at the Ann Lacy School of American Dance and Arts Management, numerous David Howard Summer Workshops, and Dance Director of the Mercyhurst College Dance Department.
When Mary was working on her master's degree, she formed the Mary K Price Dance Company of twelve dancers that performed all over the state of Oklahoma. In 1988 she formed the not for profit dance company in Seattle, Washington called Mary and Friends and in 1999 she founded the Illinois Ballet, where she was director and choreographer.
Before finishing her undergraduate work at the University of Oklahoma, she was honored as The Most Outstanding Dancer Award. In 1977, she was honored as one of The Outstanding Young Women in America and she is in many Who's Who; for example, Who's Who, Who's Who in Entertainment, Who's Who in the West, Who's Who in the East, Who's Who in Finance, etc. Most recently she is one of the 25 Leaders honored by WEEK TV - the NBC affiliate, the Chamber of Commerce, and The Marketeer.
Choreography: Carmina Burana, Fallen Leaves, Wagoso, Embrace, Nutcracker, The Little Mermaid of Lake Peoria, Alice in Wonderland, The Land of Pimiteoui, The Juggler of Notre Dame, Appalachian Spring, Holiday Spectacular, A Christmas Special, Gloria, Liebeslieder Waltzes, and Rock Ballet; Operas including: Aida, La Traviata, The Marriage of Figaro, Amahl and the Night Visitor, Rigoletto, Hansel and Gretel, Il Trovatore, and Don Giovanni; Musicals: Tommy, Ruddigore, She Loves Me, and Pinocchio; and restaged the full length ballets: Swan Lake, Sleeping Beauty, and Coppelia.